I love Easter.
I love Jesus.
I love everything that has to do with His loving me so much He gave His life so I could be saved, delivered and healed.
He died and rose again so I could have a hope and a future.
Easter is our reason for celebrating
everything.
To know that He suffered for me.
That He lived and died for me.
That his hands...his feet were nailed...the thorns...the beating..
For me.
You and me.
Crazy, messed up me.
With all that said, my family and I do not go to church on Easter Sunday.
What?!?
We don't go to church on Easter Sunday...we go on Saturday.
Last year was the first year we did so and we committed as a family to not go on Sunday ever again.
When we told people this and many were a little taken aback.
"But Easter is on Sunday."
"How can you not go to church on Easter Sunday?"
"Jesus rose on Sunday...not Saturday."
First of all...did you know that more non-church going people go to church on Easter Sunday that any other Sunday in the year. More go to church on Easter than on Christmas.
Churches around the country will be hosting more visitors on Easter Sunday and because of that, our church adds services to the weekend starting on Saturday night. They also ask that members choose a Saturday service in order to open up seats (and parking spaces) for all first time visitors.
Honestly, at first I did think..."But, Easter is on Sunday." (Incredibly obvious isn't it?)
But my Husband insisted we go and that we would make Sunday a family day, and that we intentionally share with our kids the beauty of the Resurrection.
And so we did. And it was awesome!!
And THAT is why if possible, we won't ever go to church on Easter Sunday again!
If you only go to Church on Easter Sunday because that's "what you do..." you are missing out on the depth of what Easter is about. If you dress your kids up in the new spring fashions, head to church, go hunt for Easter eggs and have a nice family dinner after and never once intentionally and passionately give your children and your family real Easter teachings and traditions that go deeper than dying eggs and pretty pastels, then you are missing out on the greatest celebration of this life.
I'm not saying don't buy new clothes or hunt eggs...yes, do all those things if that is part of what you
do as a family. What I am saying is do so much more. Be intentional and engage your children in
traditions and teachings that will pierce their heart, burden them with the sacrifice that Jesus gave for
them, enrapture their hearts for the Joy in the resurrection and give them a desire to chase after the Kingdom.
8 ways to Intentionally Celebrate the Resurrection.
1. Invite people to your church.
THIS EASTER SUNDAY your neighbor, co worker, friend is probably thinking about going to church. They more than likely don't have a "home" church.
INVITE
them!! Pick up some extra invite cards or maybe your church sends out flyer's or maybe you can just make some on you computer and go around the neighborhood or when you take the kids to the park hand out a few. If your church is
doing an egg hunt, invite the moms at the school or work.
2. Celebrate and Feast!
Do you make a special meal for your kids, maybe on birthdays or other celebrations? Make it for Easter. Make a special meal that they love and light candles and spend time reflecting and talking about the resurrection. In our family I make my "Famous French Toast" for every morning celebration. So on Easter Sunday I will wake up and light some candles, put on beautiful worship music and make a yummy feast of French Toast and Bacon and berries! There isn't any greater reason to celebrate and feast!
3. Do the Fun Easter traditions!
Do an egg hunt, give them Easter baskets, dye eggs. We have an egg dying/decorating competition at our house every year...and I never win...EVER! I am really not good at decorating eggs! But this is gonna be my year!! Have fun with your family.
4. Resurrection Eggs.
I LOVE Resurrection eggs! You can make them yourself, directions
here
or buy them at any
Christian book store. This is a perfect way to get your kids engaged and sharing the story of the
Crucifixion and Resurrection.
5. Make Resurrection Rolls.
So easy and so fun and yummy too! Your kids will love helping out and you can talk about and
explain how Jesus is no longer in the tomb, but He has Risen!
Here
is a great recipe.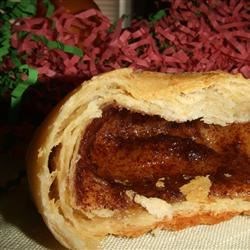 6. Set aside time for family worship.
Whether you do it on Good Friday or Easter Sunday, be intentional about setting up a time to gather your family around you and worship together, read the bible and pray for your family and each other. Im not talking an hour friends, I'm talking 15 minutes! Let your kids be a part of this time. Let your son lead in prayer or worship; let you daughter read a passage from the bible. Pray together. You can read the Resurrection story or whatever...let the Spirit lead you as you lead your family in worship together. It's Beautiful!
7. Have communion together as a family
.
Get some yummy bread (maybe you can even make some for this special celebration) and juice and share communion in your homes with you kids. Talk about the body that was broken and the blood that was shed. Serve them.
8. Do a special Easter craft
.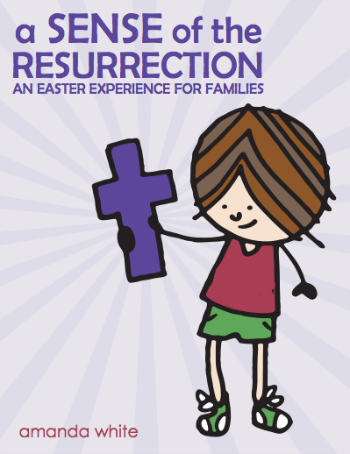 This year I am going to do a few crafts from Amanda White's new ebook "A Sense of the Resurrection." If you haven't seen or heard of this book yet, let me just say it is awesome! She has 12 very intentional and meaningful crafts that are all about the events leading to the Resurrection. Not only does she share crafts, but she has scriptures and points to talk about with your kids to reinforce the beauty of all the events leading to the Resurrection. For example, the first activity is making a perfume like Mary used to prepare Jesus for his death. The idea is that each time you smell it, you will remember that He died for you! I LOVE IT!! And even better, most of the supplies you probably have on hand! I can not wait to get started. We will not be able to do all 12, but we will definitely do a few leading up to Easter and then maybe one or two on Sunday.
GIVEAWAY TIME!!
My desire is that this Easter you will be so intentional with your children and family that they will be fired up by the passion you have for the Resurrection. So I am giving away one download of
"A Sense for the Resurrection: An Easter Experience for Families"
to one of my readers! This is my first giveaway and I am so excited!!!
Here's how to Enter-
1.
Comment
on
this
blog post and tell me how you plan to be intentional with your kids this Easter; or
subscribe
to Beautiful Craziness before Monday, April 14th at Midnight. Anyone can enter to win!
2. If you comment, that equals one entry. You can then subscribe to Beautiful Craziness and enter to win again. So you can enter a total of
2 entries per person.
(If you comment 5 times you still only get 1 entry.)
If you are already a subscriber all you have to do is comment and you will be entered in twice.
3. All comments/subscribers after midnight on Monday, April 14th will not be entered in the giveaway.
4. The winner will be announced on
Tuesday, April 15th
on Tuesday's blog post and contacted via email. The ebook will be sent directly to the winners email
after
I have heard back from them. If I do not hear back from the winner, I will select another winner.
5.
Share, comment and subscribe!!!
So...How will you celebrate and be intentional with your family this Easter?
You are His Beloved,
Subscribe and Enter to win the giveaway!